DEBDAVIS.ORG
HOME OF THE GRAND CHAIN GANG
Pulaski County Illinois
Ancestry and History Research
Everyone is invited to provide information to be included at this site as long as it pertains to Pulaski County, Illinois. The goal of this site is to provide free historical and genealogical documents of Pulaski County. Please consider donating any genealogical and historical documents, pictures or information you have to this site. I would also like to list your Pulaski County surnames or website, just send me an e-mail message.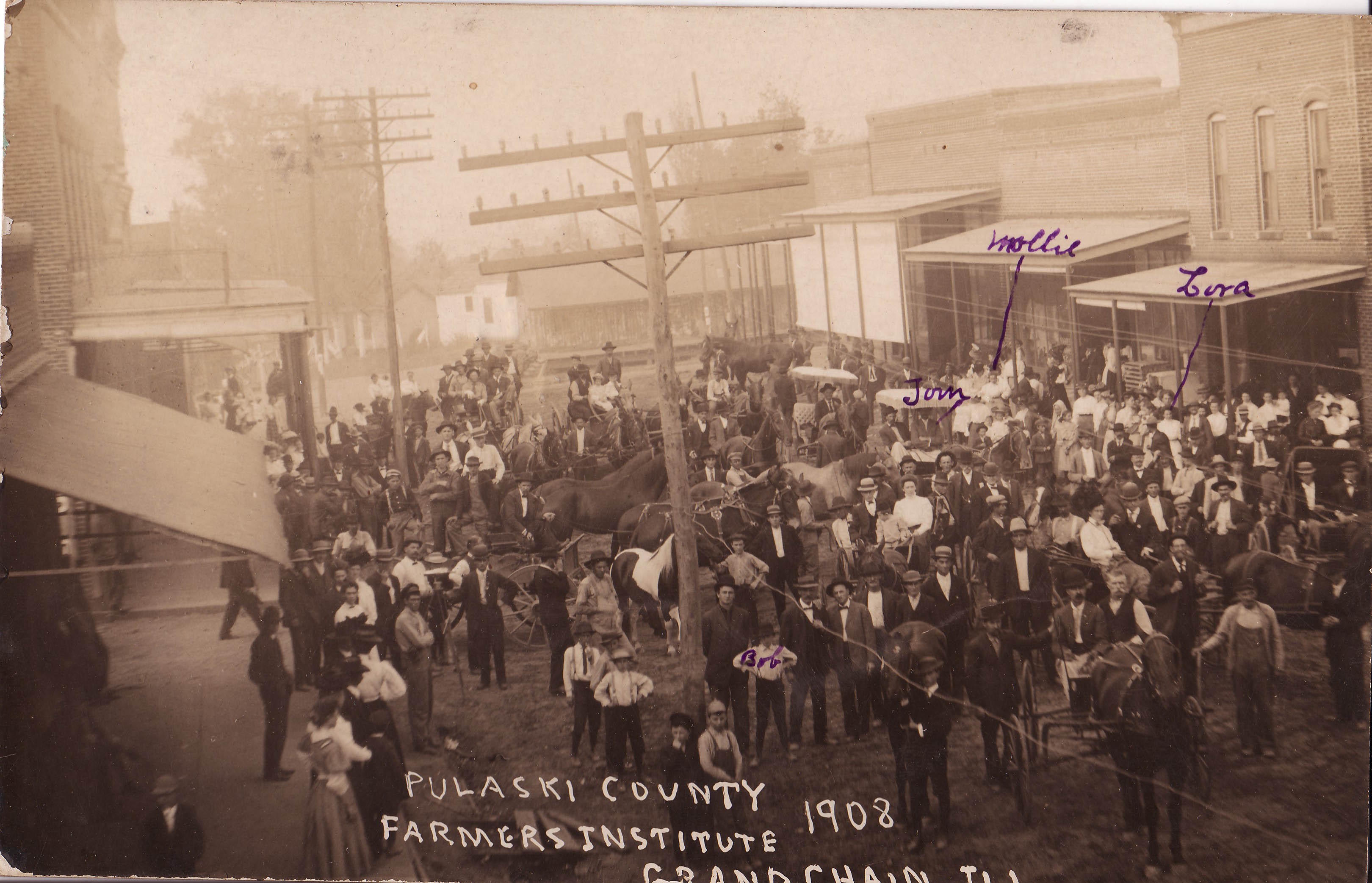 Photo generously donated by Gary and Catherine Sharp. Date 1908 Grand Chain Illinois. Please email the webmaster if you can identify anyone in the photo.
SITE MAP
County Courthouse
P.O. Box 218
Mound City , IL 62963-0218
Phone: (618) 748-9360

Mound City Public Library
224 High St
Mound City, IL 62963-1120
618-748-9427

Algee Memorial Chapel
4100 Sycamore St.
Cairo, Il 62914
(618) 734-4200

Barkett Funeral Home
325 8th St.Cairo, IL 62915
(618) 734-4291

Heavenly Gates
(618) 734-0700
Massie Funeral Home
1001 Washington Ave.
Cairo, IL
(618) 734-1323
GENEALOGY AND HISTORY
Counter added November 3, 2011
---

Submit your page to 34 popular sites for free, using one form!
---
SOUTHERN ILLINOIS GUESTBOOK
COMING SOON
Read my DreamBook guestbook!
Sign my DreamBook!
[ Home ] [ Ancestors] [ Illinois] [ Links] [ Research ][ States ]
[ Alexander Co, IL ] [Bond Co, IL] [Boone Co, IL] [Cook Co, IL] [Gallatin Co, IL] [Jefferson Co, IL] [Johnson Co, IL]
[Knox Co, IL] [Macoupin Co, IL] [Madison Co, IL] [Massac Co, IL] [Peoria Co, IL] [Pope Co, IL]
[ Pulaski Co, IL] [Saline Co, IL] [Sangamon Co, IL] [St. Clair Co, IL] [Union Co, IL] [Williamson Co, IL]
Send mail to the Webmaster with questions or comments about this web site.
Copyright © 2007 DebDavis.org, All rights reserved.