DEBDAVIS.ORG
HOME OF THE GRAND CHAIN GANG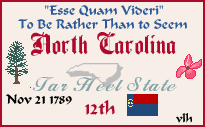 DEB DAVIS'
NORTH CAROLINA
ANCESTORS AND RESEARCH

NORTH CAROLINA AREAS
Welcome to my North Carolina genealogy page of links and research. My North Carolina research is in the following counties: Iredell County and Swain County.
NORTH CAROLINA RESEARCH
Slave Names Abstracted from Minutes of the Church of Christ, Yadkin River, Wilkes Co., NC 1787 - 1827 by Sandra Lake Lassen, 1998
NORTH CAROLINA SURNAMES
Review what I have accumulated thus far on these relatives, don't forget to mail me if you see something familiar or would like to add your surname to the list.
I am also researching CREWS, JOHNSON and RICHARDSON from North Carolina.

NORTH CAROLINA MYSTERIES
If you have information that you believe will help me find more information on these North Carolina ancestors, please don't hesitate send mail. Either e-mail me or send snail mail to Deb Davis, 8170 Goshen Road, Edwardsville, Illinois 62025.
BARFIELD Looking for information on Thomas BARFIELD, his ancestors and descendents. Thomas BARFIELD was born about 1846 in Tennessee. His father was from North Carolina and mother from Tennessee. He lived in Barlow, Kentucky (Ballard County) in the 1880 census with his wife Isabelle born about 1840. Their children living with them at the time were Romulus, age 10, Jasper, age 18, Sallie age 12, and Thomas age 19. David BARFIELD orBAREFIELD) born about 1862 was the brother of Thomas BAREFIELD and also lived with the family. Thomas BAREFIELD later resided in Grand Chain, Pulaski County, Illinois with his wife Isabelle in the 1900 and 1910 censuses. I would like more information on this family.
CLEMONS
Looking for information on the CLEMONS family. Frank1 CLEMONS was born in North Carolina. He married Catherine also from North Carolina. Their children were Andrew CLEMONS, b. Jun/1841, North Carolina, Squire P. CLEMONS, b. Oct/08/1855, Martin, Weakley County, Tennessee; d. Apr/09/1941, Pulaski County, Illinois, Orange CLEMONS, b. Aug/1858, Martin, Weakley County, Tennessee; d. Mar/30/1954, Dongoloa, Illinois, Evelyn CLEMONS, b. 1848.
Nearly all of Frank and Catherine's children settled in Pulaski Count y, Illinois. Andrew2 CLEMONS married Caroline. Squire CLEMONS married Parthena J. COLWELL in Weakley County, Tennessee. Orange CLEMONS He married LauraHARPER 1878, daughter of William STUBBLEFIELD and Jane BYRD. EVELYN CLEMONS married a BAWLETT. I would like more information on this family.
CREWS I recently found out that I descend from the African-American Crews family from North Carolina who resided in Tennessee in the 1850's. I am currently endeavoring to find present relatives from that line. My gr-gr- grandparents were Melissa CREWS and Charles FITZPATRICK. If you have information or think we may be related, please e-mail me. Thank you for taking the time to read this message.
GREENSBERRY I would like information on the GREENSBERRY family. My gr-gr-gr grandfather Lewis was born in Kentucky approxiamtely 1810. His father was born in North Carolina and Mother was born in Virginia. He was married to Maria, born 1825 in Tennessee. Their children were Spencer born in Kentucky, Peter born 1850 Kentucky, Ned born 1859 Kentucky, Henry born 1867 Illinois and Edward born 1852 Arkansas. Would like any information on this family.
HEARN I would like to know the parents of Alfred Hearn born March 1934 in North Carolina. I would also like to determine where in North Carolina he was from. He lived in Marshall County, Mississippi with his wife Julia who was born March 1848 in Mississippi. He lived in Mississippi by 1865 as evidenced by the birth of their first child.
HODGE - My great-great grandfather Louis HODGE who was born 1816 in North Carolina. He married Melissa CREWS in Dyers County Tennessee on May 19, 1866. They resided in Obion County, Tennessee in the 1880 census with their children Aaron (1865), John (1866), Lucinda HODGE O'NEAL (1872; Grand Chain, Illinois), Lena HODGE MCCLELLAND (b: 1873; Tennessee), Millie (1878) and Aaron.
Lena HODGE was my great-grandmother. She married Witt MCCLELLAND. Known children were Lillian, Pearlie, Melvin, Elic, John (my grandfather), James, Marie and Mabel. I believe they raised their children in Pulaski County, Illinois. Malissa also had another son, George SCOTT. Louis and Melissa both had families prior to their marriage. I would be interested in information on those families. It would be especially thrilling to learn of other relatives. Thanking you in advance. Deborah Davis, Edwardsville, IL
McCLELLAND I am interested in corresponding with anyone who has information on the McCLELLAND family from North Carolina. My gg-grandfather, Richard McCLELLAND was found in the 1880 Pulaski County Illinois census born 1839 in Tennessee, but his father was listed as born in North Carolina.. He was listed as mulatto, so I suspect one parent was caucasian, maybe even Irish from his surname. I have been unable to find out who Richard's father or mother were. Any help would be greatly appreciated.
NEELY I would very much like to learn information about D. and Clary (Clacy) Neely. Their birthdates are unknown, but Clary is from North Carolina. No documentation has been found to tell us where D. was born, but family lore has always been that my gr-grandfather Thomas' father was from India. Their one known child is Thomas (Tom) Neely who was born 1867 in North Carolina. He lived in Red Banks, Marshall County, Mississippi with his wife through the 1900 - 1910 census. It is not known if he moved to Memphis, Tennessee yet he died there in January of 1930. His daughter Fannie Little was the informant so he may have lived with her at the time. He was a widow so I am also looking for information on the death of his wife Mary Curry Neely. Getting back to D and Clary (Clacy) Neely, I would like to know if they migrated to Mississippi and have any and all information I can find out about them.
SIMMONS Jones Co., NC> Leflore Co., MS>Coahoma Co, MS>Sunflower Co., MS>
I am researching Simmons family from the Mississippi Delta. These families lived in Leflore, Coahoma and Sunflower Counties. I would love to hear from anyone with information.
Descendants of Harriet Simmons
1 Harriet Simmons b: 1835 in North Carolina probably Jones County
...... 2 Wright Simmons, Sr. b: 1875 in North Carolina
.......... +Emily Johnson Simmons
.............. 3 Lebirda Simmons Harris b: August 18, 1900
.................. +Joseph Harris, Sr. b: November 1892 in Mississippi
.............. 3 Oscar "Oscar Blue aka. Aaron Blue" Simmons b: 1902
.............. 3 Mattie Simmons Sullivan b: May 31, 1904 in Minter City, Leflore County, Mississippi d: June 19, 1997 in Duncan, Bolivar County, Mississippi
.................. +Lewis Sullivan
.............. 3 Hattie Simmons-Vassel b: 1906
.............. 3 Wright Simmons, Jr. b: May 13, 1918 in Minter City, Leflore County, Mississippi d: November 11, 2000 in Northwest Mississippi Regional Medical Center, Clarksdale, Mississippi
.................. +Cure Forest Simmons
...... 2 John Simmons
---
NORTH CAROLINA QUERIES
Let me post your query or mystery ancestor information here. Just send me an email.
bfmartin169@msn.com Homepage URL: http:// Comments: My grandfather Samuel MARTIN, african american, was born in Wilkes County, NC about 1820. I am looking for information or a connection.
---
I am researching my Reynolds family line and have traced it back to a John Reynolds and his son Hamilton migrating from North Carolina to Arkansas sometime before 1835. I have a birth date for Hamilton of 1812 from a marriage record. I have no birth date for John or names of parents or wife.

I have discovered that there was a John Reynolds born in North Carolina, (possibly Personco) in 1785 to Hamilton (or Hambleton) Reynolds and Sarah Lea. He married Catherine (or Kathy) Magness in 1810 in Rutherford, which would be about right for him to be the father of Hamilton Reynolds born in 1812. Also the repeat of the name Hamilton seems to be more than a coincidence. Do you know if this John Reynolds and Catherine Magness had a son Hamilton and if they eventually migrated to Arkansas. I will greatly appreciate any help in proving or disproving this connection.

NORTH CAROLINA
GENEALOGY LINKS
These are North Carolina links I frequent to research my ancestors. I hope you find them helpful.
BY COUNTY
BLADEN COUNTY
COLUMBUS COUNTY
CUMBERLAND COUNTY
FORSYTH COUNTY
HENDERSON COUNTY
HYDE COUNTY
IREDELL COUNTY
LEE COUNTY
PERSON COUNTY
ROWAN COUNTY
RUTHERFORD COUNTY
SPARTENBURG COUNTY
STOKES COUNTY
SWAIN COUNTY
UNION COUNTY
YORK COUNTY

North Carolina Links
Please send me e-mail and let me know what you think of this site. And don't forget to leave your surnames in my guest book, you never know another visitor just might be a relative.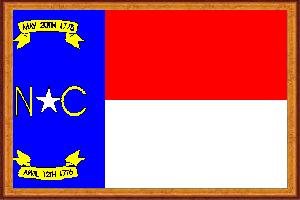 Submit your page to 34 popular sites for free, using one form!
---
SOUTHERN ILLINOIS GUESTBOOK
COMING SOON
Read my DreamBook guestbook!
Sign my DreamBook!
[ Home ] [ Ancestors] [ Illinois] [ Links] [ Research ][ States ]
[ Alexander Co, IL ] [Bond Co, IL] [Boone Co, IL] [Cook Co, IL] [Gallatin Co, IL] [Jefferson Co, IL] [Johnson Co, IL]
[Knox Co, IL] [Macoupin Co, IL] [Madison Co, IL] [Massac Co, IL] [Peoria Co, IL] [Pope Co, IL]
[ Pulaski Co, IL] [Saline Co, IL] [Sangamon Co, IL] [St. Clair Co, IL] [Union Co, IL] [Williamson Co, IL]
Send mail to the Webmaster with questions or comments about this web site.
Copyright © 2007 DebDavis.org, All rights reserved.