KERR ISLAND
<![if !supportEmptyParas]>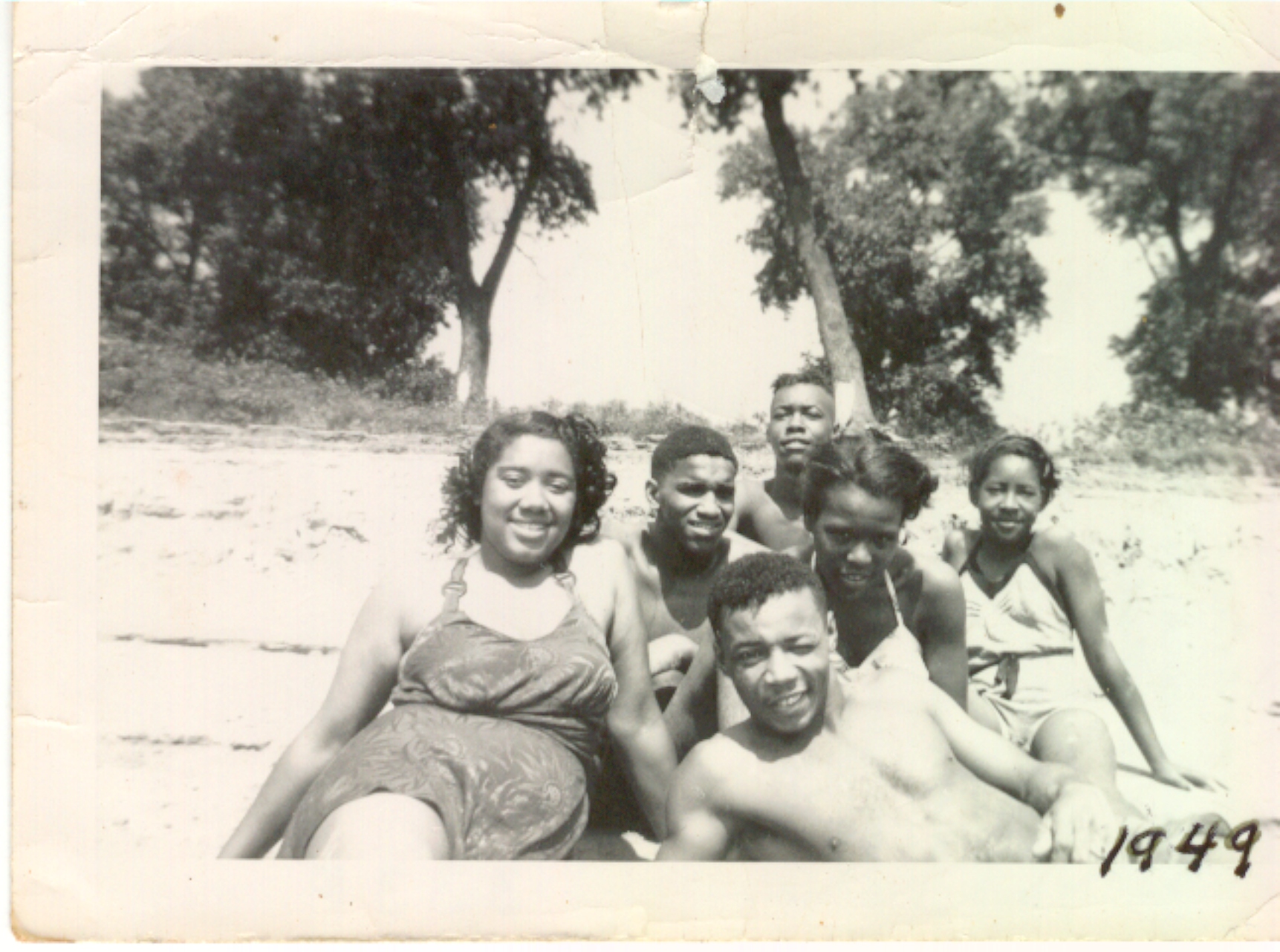 <![endif]>
<![if !supportEmptyParas]> <![endif]>
Kerr Island Beach
NOTEWORTHY: A Kerr Island reunion is planned for April 19, 2014. It will be held at New Shining Light Church in Venice, Illinois at 3:00 p.m.
GEOGRAPHY Kerr Island is still known today as The Island. It is located south of Madison, Illinois. The Mississippi River is the only separation from the Island and the city of St. Louis, Missouri. The beach on the riverbank has been a popular recreation area in this small African American community. Just see how much fun my mother and friends appear to be having in the late 40's above.
<![if !supportEmptyParas]> <![endif]>
HISTORY The inhabitants have been African-American for at least the previous 50 years. With the exception of one business and a couple of houses, Kerr Island is nearly a ghost town. It has been at least 20 years since the small community thrived. The Island was the home of several African-American churches of which I remember, New Salem Baptist Church and a Holiness Church (Sanctified). Another church of yesteryear that I have been told of was named Strangers Home Church. The popular local night club known as The Robins Nest is the only business remaining there now.
INHABITANTS These are families I remember living at Kerr Island in the 1960ís and 1970ís. There were many others, though. If you know of a family name that should be added to this site, please email me.
I would especially like to thank Dr. Lula Savage Collier for expanding the list. Your help is much appreciated.
<![if !supportEmptyParas]> <![endif]>
Allen Anderson Bishop(s) Booker Boyd (3 families) Bridges Brown Buckles Butler Caldwell Cobb Collins Cooper Crawford Cribb Cross Dandridge Dozier Ervin Evans Flippen Fuller Gales Gatewood Gillespie Glasper (3 families ) Griffin Harris Hendricks Holt Hoskins Hoults Irvin Isaac Ivory Jefferson Jones Long Mason McCoy McGlone Melton Moss Mukes Newsome Palmer Parham Redds Richmond Riggs Roberts (Stokely, Dixon, Franklin) Robinson Rupert Savage Seals Shelton Spencer Stinson Thompson Walker Wilborn Williams(3 different families) Woolfork Wright ( two unrelated families)

Submit your page to 34 popular sites for free, using one form!
---
SOUTHERN ILLINOIS GUESTBOOK
COMING SOON
Read my DreamBook guestbook!
Sign my DreamBook!
[ Home ] [ Ancestors] [ Illinois] [ Links] [ Research ][ States ]
[ Alexander Co, IL ] [Bond Co, IL] [Boone Co, IL] [Cook Co, IL] [Gallatin Co, IL] [Jefferson Co, IL] [Johnson Co, IL]
[Knox Co, IL] [Macoupin Co, IL] [Madison Co, IL] [Massac Co, IL] [Peoria Co, IL] [Pope Co, IL]
[ Pulaski Co, IL] [Saline Co, IL] [Sangamon Co, IL] [St. Clair Co, IL] [Union Co, IL] [Williamson Co, IL]
Send mail to the Webmaster with questions or comments about this web site.
Copyright © 2007 DebDavis.org, All rights reserved.