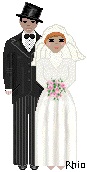 WASHINGTON COUNTY, MISSISSIPPI
COLORED MARRIAGES
These records were transcribed on November 10, 2000. A random sampling of the names I am researching are contained in this file. Some of the colored records dated back into the 1850's. These marriage record books are located in the Greenville County court house. Researchers are welcome to do their own research in the books. I found the records kept in a neat orderly manner.
Colored Marriage Book 1
Bond made by Wm. MCCLELLAN and J.S. GEOGHIGAN for marriage of Wm. MCCLELLAN and Elizabeth RUCKS, 8/6/1870, page 169
Marriage of Fred ANDERSON to Margaret WASHINGTON, 8/15/1870, page 181
Bond of $200 made by Alexander ANDERSON and W.E. DULTON for marriage of Alex ANDERSON to Catherine CLARK, 2/28/1871, page 306
Bond OF $200 made by Sam M. BAREFIELD and Magruder FERGUSON , for Marriage of Samuel M. BAREFIELD and Mollie Z. BUCKNER, 11/16/1871, page 510
Colored Marriage Book 2, 1/13/1872 - 9/26/1873
Bond of $200 made by Frank BAREFIELD and George R. FARMER for marriage of Wm. MCCLELLAN and Elizabeth RUCKS, 1/19/1872, page 9
Bond of $200 made by Salem ANDERSON and Charles SCOTT for marriage of Salem ANDERSON and Elizabeth SPURLOCK, 1/31/1872, page 32
Bond of $200 made by William ANDERSON and George WASHINGTON for marriage of William ANDERSON and Katie JONES, 2/3/1872, page 39
Bond of $200 made by Jefferson BOWMAN and Napoleon ANDERSON for marriage of Jefferson BOWMAN and Mary WILLIAM , 3/2/1872, page 72
Bond of $200 made by Charles SCOTT and George WASHINGTON for marriage of Charles SCOTT and Lucy ANDERSON, 3/27/1872, page 108
Bond of $200 made by Willis ANDERSON and Anderson MOBLEY for marriage of Willis ANDERSON and Angeline, 6/22/1872, page 183
Bond of $200 made by Gus MONTGOMERY and M. WILLIAMS for marriage of Gus MONTGOMERY and Annabelly ANDERSON, 7/2/1872, page 192
Bond of $200 made by Preston TYLER and George WASHINGTON for marriage of Preston TYLER and Henny WILLIAMS, 8/28/1872, page 231
Bond of $200 made by Henry ANDERSON for marriage of Henry ANDERSON and Maria MADISON, 1/19/1872, page 238
NOTE: Following is a transcription of a letter attached to the above marriage license.
Leoda Landing
Washington Co. Mips.
23rd Aug 1872
To the Clerk of Probate
Greenville, Mip
Enclosed you will fine th??? Dollars. Please send me a license for Myra Madison and Henry Anderson to get married and enclose it to me.
Your Obet Servnt
Thomas Kershaw
Bond of $200 made by David KNOX and Fred ANDERSON for marriage of Fred ANDERSON and Jane ANDERSON, 8/31/1872, page 245
Bond of $200 made by Dock ANDERSON and Elder BLOCK for marriage of Dock ANDERSON and Lizzie FOSTER, 9/18/1872, page 245
Bond of $200 made by Greene ANDERSON and Jeff W. MOORE for marriage of Greene ANDERSON and Mary SMITH , 10/7/1872, page 281
Bond of $200 made by Wm TAYLOR and Davy JOINER for marriage of Wm TAYLOR and Sauea JACKON , 4/17/1873, page 517
Marriage of Zachariah TAYLOR and Jane MITCHELL, pagge 559
Colored Marriage Book 3 9/26/1873 - 12/2/1875
Marriage of Norris JACKSON and Millie ANDERSON, 12/11/1873, page 39
Marriage of Elijah ROBINON and Adeline ANDERSON, 12/23/1873, page 61
Marriage of R.M. ALEXANDER and Euenia BAREFIELD, 1/12/1874, page 105
Marriage of William PRICE and Sarah ANDERSON, 3/11/1874, page 172
Marriage of Ben JACKON and Henrietta BAREFIELD, 10/29/1874, pae 306
Marriage of Edward JONES and Ellen MCCLELLAN 12/31/1874, PAGE 377
Colored Marriage Book 4
Bond made by Frank BARFIELD and George R. FARMER for marriage of Frank BARFIELD to Keziah PARISH
Marriage of E.V. MCKENNY to Mip Carrie BEARFIELD, 1/12/1876, page 33
Marriage of Buck ANDERSON to Mip Hannah WOODS, 2/2/1876, page 45
Marriage J.C. RYALS to M.L. BAREFIELD, 2/9/1876, page 50
Wm TAYLOR Jerry ANDERSON to Kizzie JACKSON, 2/26/1876, page 59
Marriage of Bill MCCLELAN to Virginia CHATMAN, 3/28/1876, page 77
Marriage of Sam MCCLELLAN to Affie NELSON, 5/10/1876, page 119
Marriage of Westley RICE to Jane ANDERSON, 8/4/1876, page 128
Marriage of Henry ANDERSON to Agnes WESWOOD, 1/20/1877, page 203
Marriage of Watt ANDERSON to Charlotte JACKSON, 2/10/1877, page 217
Marriage of Homer DUVALL to Eliza ANDERSON, 2/12/1877, page 226
Marriage of Isaac MCCOLLIM to Eliza JENKINS , 9/8/1877, page 291
Marriage of W.A. LISBONY to Fannie a BARFIELD, 12/21/1877, page 331
Marriage of Charles ANDERSON to Maria NELSON, 12/22/1877, page 332
Colored Marriage Book 5
Marriage of Samuel MOORE to Charlott ANDERSON, 8/24/1878, page 50
Marriage of Coleman STRICE to Jane ANDERSON, 12/30/1878, page 83
---
Please send me e-mail and let me know what you think of this site. And don't forget to leave your surnames in one of my guest books, you never know another visitor just might be a relative.
---
---

Submit your page to 34 popular sites for free, using one form!
---
SOUTHERN ILLINOIS GUESTBOOK
COMING SOON
Read my DreamBook guestbook!
Sign my DreamBook!
[ Home ] [ Ancestors] [ Illinois] [ Links] [ Research ][ States ]
[ Alexander Co, IL ] [Bond Co, IL] [Boone Co, IL] [Cook Co, IL] [Gallatin Co, IL] [Jefferson Co, IL] [Johnson Co, IL]
[Knox Co, IL] [Macoupin Co, IL] [Madison Co, IL] [Massac Co, IL] [Peoria Co, IL] [Pope Co, IL]
[ Pulaski Co, IL] [Saline Co, IL] [Sangamon Co, IL] [St. Clair Co, IL] [Union Co, IL] [Williamson Co, IL]
Send mail to the Webmaster with questions or comments about this web site.
Copyright © 2007 DebDavis.org, All rights reserved.