DEB DAVIS'
MADISON COUNTY
AFRICAN AMERICAN SCHOOLS
---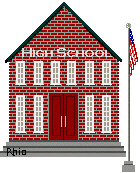 MADISON HIGH SCHOOL
Information has been compiled here from various sources, verbal, obituaries, etc. I would like to thank everyone who contributed to the success of this list. If you are a Madison county researcher and can add to this list, please email me.
FORMER PRINCIPALS
CLASS ROLL 1952 GRADUATES
CLASS ROLL 1953 GRADUATES
FORMER STUDENTS
Mary Curtis, Class of 1992
FORMER STUDENTS - Years Unknown






Pamela

Barefield
Elmer James Collins

Douglas Griggs

Jeanette jackson

Jimmy Jackson

Vanetta Jackson

Charlise Johnson

Clarice Johnson

Elvers Johnson

Harelyn Johnson

Kathleen Johnson

Marsha Johnson

Yakira Maynard

Willie James Mayes, Jr., July 07, 1955 - July 17, 2006

Anna Marie Nelson

Carl D. Nelson

Lavonda Nelson

Mary Ann Nelson

Patricia A. Nelson

John Newsome

Larry Newsome

Paula Smith

Michael Terrell
Adam Turner
Annie Ruth Turner
Carl Turner
Clifton Turner
Delores Turner
Lorraine Turner

Mary R. Turner

Ralph Turner

Rufus Turner

Samuel Turner

Taylor Turner

Thelma Turner

Vivian Turner

Diane Walker

Paula Walker

Fredericko A. Waters

Gregory A. Waters

Submit your page to 34 popular sites for free, using one form!
---
SOUTHERN ILLINOIS GUESTBOOK
COMING SOON
Read my DreamBook guestbook!
Sign my DreamBook!
[ Home ] [ Ancestors] [ Illinois] [ Links] [ Research ][ States ]
[ Alexander Co, IL ] [Bond Co, IL] [Boone Co, IL] [Cook Co, IL] [Gallatin Co, IL] [Jefferson Co, IL] [Johnson Co, IL]
[Knox Co, IL] [Macoupin Co, IL] [Madison Co, IL] [Massac Co, IL] [Peoria Co, IL] [Pope Co, IL]
[ Pulaski Co, IL] [Saline Co, IL] [Sangamon Co, IL] [St. Clair Co, IL] [Union Co, IL] [Williamson Co, IL]
Send mail to the Webmaster with questions or comments about this web site.
Copyright © 2007 DebDavis.org, All rights reserved.