DEB DAVIS'
MADISON COUNTY
AFRICAN AMERICAN SCHOOLS
---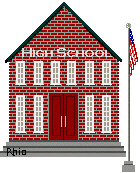 DUNBAR SCHOOL
Photo courtesy of the late Luvenia Lee Woolfolk and family. May her soul rest in peace and I am forever grateful for the continued help, support and donations to help me in my quest to preserve the genealogy and history of family, friends, Southern Illinois and my beloved home town of Madison, Illinois. I miss you my friend.
Information has been compiled here from various sources, verbal, school programs, obituaries, etc. I would like to thank everyone who contributed to the success of this list. If you are a former Dunbar faculty member, historian or student and can add to this list, please email me.
FORMER PRINCIPALS
FORMER STAFF MEMBERS

Ms. Etta Mae Banks, Secretary

Mr. Roosevelt Hale, Custodian


ROLL CALL FOR ALL FORMER STUDENTS

Class Roll 1927



Class Roll 1948

Norma Jean Terrell



Class Roll 1962

Viola Mae Foster

FORMER STUDENTS - Years Unknown


Helen Adams
Arnetia Anderson
Joan Evelyn Anderson
Phyliss Anderson

Wilbert Anderson

Ethel Barefield

Harold Barefield

Izola Barefield

Lawrence Barefield

Lillie Mae Barefield

Lorraine Barefield

Morris Barefield

Patricia Barefield

Robert Barefield

Barbara Benson

Avery Blockton

Maggie Lena Bouie

Patrice Bowers

Tatia Boyd

Alberta Bradley

Margie Brooks

Paul Butler

Gertrude Caldwell

Edward Chandler

Delphine Clay

Andrew Clemons

Curtis Clemons

Evelyn Clemons

Greta Clemons

Helen Ruth Clemons

Lois Clemons

Ollie Clemons

Robert Clemons

Sherman Clemons

Barbara Coburn

Leonard Collier

Charles Crawford

Cecil Cross, 4th thru 6th grade, 1969, 70 and 71

Beverly Cross

Clarissa Cross

Cynthia Cross

Valorie Cross

Hilda Louise Curry

Angelette Dandridge

Phyllis Dandridge

Margaret Dawsib

Essie B. Edwards

William Edwards

Jim Ervin

Skippy Ervin

Jimmy Ferguson

Rosie Fields

Doris Fletcher

Donald Garrett

Gaye Garrett

Glowdean Garrett

Kevin Garrett

Lamont Garrett

Madison Garrett, Jr.

Miriam Garrett

Christeen Griggs

Roy Van Dyke Griggs, Jr.
Beatrice Hamilton
Joe Hamilton
Joe Harper
Beverly Harper
Dorothy Harris
Marilyn Harris
Maurice Harris

Arnell Hemingway

Audrey A. Hines

Freddie Hughes

John Hughes

Morris Hughes

Alvin Jackson (Duck)

Vernell Jackson

Debra Jefferson
Frank Jenkins
William Johnson
Mary Lou Leslie
Bert Louis
Oliver Mason April 28, 1954 - August 24, 2008
Alfred Matthews
Beatrice Matthews
Martin Matthews

Arvella Mays, January 14, 1954 - April 07, 2007

Walter Mays

Anita McHern

Verna McClelland

May Helen Moore

Maxine Jefferson

Ernestine Nelson

Margaret Nelson

Tommy Patterson

Ethel Rachel

Dora Smith

Elise Mae Smith

Ferris Smith

Gladys Smith

Mabel Smith

Essie Spearman

Velma Jean Spearman

Kenny Stanley

Kerwin Stanley

Kim Stanley

Lisa Stanley

Eddie Stanton

Margaret Strauther

Alonzo Taylor

Arleatha Taylor

Dorothy Taylor

Frankie Mae Taylor

Roosevelt Taylor

Royce Turner

Victor Valentine
Luella Walls
Evelyn Wigfall
Billy Wilburn
Shirley Wilburn
Earl Wilson
Norman Woolfolk
Norvell Woolfolk
Joe W. Young
<![if !supportEmptyParas]>




Submit your page to 34 popular sites for free, using one form!
---
SOUTHERN ILLINOIS GUESTBOOK
COMING SOON
Read my DreamBook guestbook!
Sign my DreamBook!
[ Home ] [ Ancestors] [ Illinois] [ Links] [ Research ][ States ]
[ Alexander Co, IL ] [Bond Co, IL] [Boone Co, IL] [Cook Co, IL] [Gallatin Co, IL] [Jefferson Co, IL] [Johnson Co, IL]
[Knox Co, IL] [Macoupin Co, IL] [Madison Co, IL] [Massac Co, IL] [Peoria Co, IL] [Pope Co, IL]
[ Pulaski Co, IL] [Saline Co, IL] [Sangamon Co, IL] [St. Clair Co, IL] [Union Co, IL] [Williamson Co, IL]
Send mail to the Webmaster with questions or comments about this web site.
Copyright © 2007 DebDavis.org, All rights reserved.